Tori O'Campo
Editor-in-Chief
I haven't felt at rest since February, an abnormal state amongst my mostly-privileged 21 years of life. There are certain consistencies in our lives that we rely on; we fall into routine, for example, because it is easier to navigate life when you know how to predict the level of traffic when you leave to work at the same time every morning. The happenings of the pandemic and social unrest have pulled our culture out of routine, forcing us to forgo the comfortable rhythm that so many people rely on for meaning. 
However, when the New York Times wrote about a mysterious monolith that appeared in Utah, I realized that we hadn't learned our lesson. We still find ourselves relying on the possibility of absolutes, despite knowing that there aren't any.
Over the past few months, we realized that humans will all accept the truth that provides us with the feeling of most control. Perhaps you wear a mask while on a walk because it makes you feel that you are doing your part, or maybe you would think the severity of the pandemic is a hoax because you cannot bear to accept the death rate of a virus that operates almost entirely beyond human control. Maybe you have stopped eating meat to reduce your environmental impact, but still own a hoard of water bottles that sit in the garage. In the highest voter turnout in a century, you dropped your ballot off in the nearest drive-by dropbox to feel as your voice mattered.
Then, in the midst of this pandemic that has disturbed our human tendency to seek meaning, a mysterious monolith appeared in the middle of Utah. When the monolith was discovered without explanation on Wednesday, Nov. 18, it presented us a mystery; it begged us to try to understand. It looks like something out of a sci-fi film, a magazine cover-ready icon for "Ancient Aliens" viewers.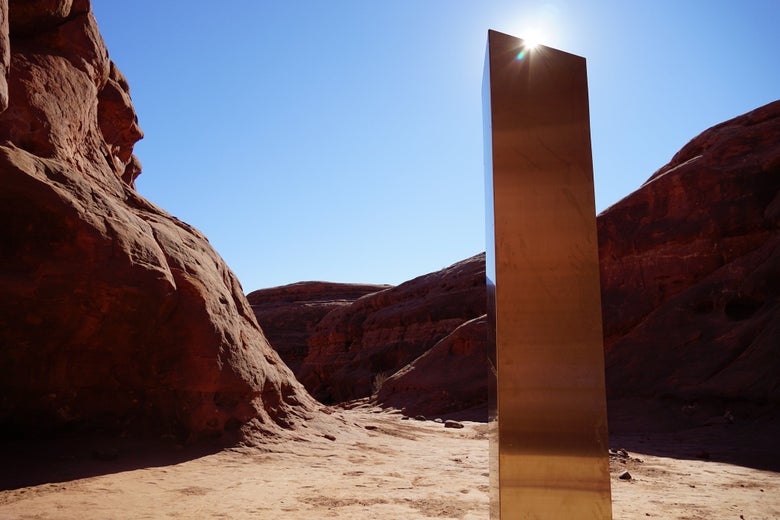 The internet has refused to let the Utah Monolith remain a mystery, with a subreddit that was created for the monolith now hosting over five thousand members. Thousands of users responded on Twitter with their opinions of what they believe the mysterious object might be, and others travelled to see it in hopes to answer questions, despite the risk of joining a crowd during a month of rising COVID-19 cases. Then, on Saturday, Nov. 28, the monolith seemed to disappear just as mysteriously as it appeared.
Still without a legitimate owner to claim it, the Utah Monolith continues to hold media attention. Despite the original New York Times article reporting that officials determined that the structure must be a piece of art, online communities have been debating their alternative theories of the monolith's origin. Proof of alien lifeforms, a science company's cheesy marketing tactic, a contemporary art piece, and a mystery marking left by the government are just a few of the main theories being discussed. 
Hours have been poured into arguing for and against these theories, which amazed me. I originally wanted to scoff at the idea that this was the work of an extraterrestrial, since it's structure and placement aligns with contemporary land-art trends. But after a year that has only seemed to spark more belief in conspiracies about our government and politics, I cannot truly say that I am surprised. When the world as you have grown to know it can come to a sudden halt, how could you not question what else is out of your control? When an unexplained monolith lands itself in the middle of Utah, how could you not want to solve its mysterious origin?
The past seven hundred words have been nothing more than me searching for meaning, too. I cannot seem to accept that there might not be an intended meaning to this weird silver sculpture; again, I have learned nothing the past few months. Now, a second unclaimed monolith has appeared in Romania; whether it be copycat or coincidence, the hunt for answers has grown into a global matter. Whether it be extraterrestrial, proof of alternative timelines, or an anonymous artist making some statement, the Utah Monolith must have a purpose, right? Or, maybe, just as with everything else these past few months, it doesn't.
We cannot help but search for these absolutes, giving ourselves the answers that might make us feel as if there is meaning. Maybe in our unavoidable search to find true meaning in a monolith, we have rediscovered one of the most essential human needs that, over the past few months, we feared that we had lost.
Feature image: Photo courtesy of New York Times.